Hollow rod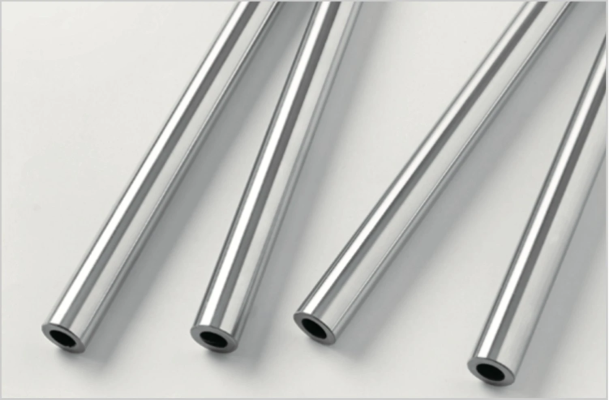 Hollow rod are Made of cold drawn seamless tubes or hollowed bars,by grinding and precision polishing on the outside diameter and then chrome plated to a certain thickness on the OD.And Chrome plate hollow bar also knowns as chrome plated tube . At the same time they also called chrome plated OD tubing.
Gastac is a professional Chrome plate hollow bar manufacturer and supplier,and has been supplying and exporting  chrome plated hollow bar for almost 5 years.
Material: E355 ST52,CK45,SAE4140,16Mn,42CrMo,SAE4145,SAE1518,Stainless Steel 304/316,Duplex 2205,etc.
Heat treatment Type:1) Normal no heat  2)Q+T(Quenched+Tempered) 3)Induction Hardened
ID Size : 20mm – 1500mm
Length: max.20 meters
Chrome layer: min 20/25/30/50 Micron or customized
Type: Seamless, Hot Rolled, Cold Rolled, Cold Drawn
Straightness: ≤ 0.5/1000
Roughness: Ra <= 0.4u
Tolerance EXT: DIN2391, EN10305, GB/T 1619
Diameter tolerance: ISO f7/f8/f9/h8/h9 or as request
Protection: Anti-rust oil on inside and outside surface.
Packing: Hardboard sleeve protection and wooden case.
CHEMICAL PROPERTIES OF CHROME PLATED HOLLOW BAR
ADVANTAGES OF Gastac's CHROME PLATED HOLLOW BAR
Carbon steel with advantages of durability, hardness, and wear resistance using formability, weldability, and durability;
Chrome platingcan provides corrosion resistance along with an Extremely reflective look
High precision tolerances, ensures when used to make hydraulic piston rod, it can fit the cylinder precisely.
Good Hardness: the surface hardness attaining about HV850, which can  improve wear resistance and at the same time to help extend the life span of these chrome plated rods, thereby helping the consumer save the cost.
WE ALSO PRODUCE:
Hard Chrome Plated Rod;
Quenched & Tempered Chrome Plated Rod;
Q+T Induction Hardened Chrome Plated Rod;
Stainless Steel Chrome Plated Rod/ SS304/316/430/431/2205/17-4PH, etc.
Forged Chrome Plated Rod
Gastac can offer best chrome plated hollow bar and hard chrome bars for our customers. If you are interested in our hard chrome piston rod, chrome rod, chrome plated bars,please call or e-mail us without hesitation.